We specialize in preparing businesses for sale by working with your team to institute key operating improvements designed to increase a company's profitability, valuation, and/or achieve a strategic objective.  We can then provide follow-on sales support as you interact with potential acquirers.  We work with our partners at DealPartner to assemble the right team needed to realize your objectives for a successful merger and acquisition (M&A) exit.
Areas where we can offer assistance include: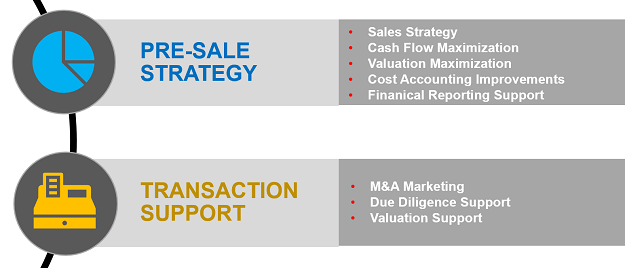 Our basic approach for clients interested in pursuing a successful M&A exit involves four phases:
Phase 1:  Discovery.  We work with management to understand the business and its challenges with the aim of identifying key areas where financial performance can be improved.
Phase 2:  Define Approach.  We will identify and prioritize operational improvements that can have a measurable and significant effect on financial performance and a final valuation.
Phase 3:  Implementation.  Operating improvements will be implemented in a way that ensures solid performance gains while minimizing disruption to the business.
Phase 4:  Marketing.  We will discreetly market your company to potential acquirers and assist with building a team of experts necessary to successful realize your M&A exit objectives.
Contact us to arrange an initial discussion where we can explore the possibilities and define a path forward together.
Explore the Possibilities...
We welcome inquiries from all businesses, small and large, that are eager to move to the next level.  Feel free to contact us to discuss your specific needs at no obligation.