Lean Manufacturing Consulting
Altemir Consulting provides hands-on results-oriented consulting and project support  for small, medium, and large manufacturing firms wishing to improve overall performance.  Our experience has mostly been in job shop type environments dominated by high mix, ranging from pre-revenue start-ups to multi-billion dollar public companies.
Manufacturing areas of focus include: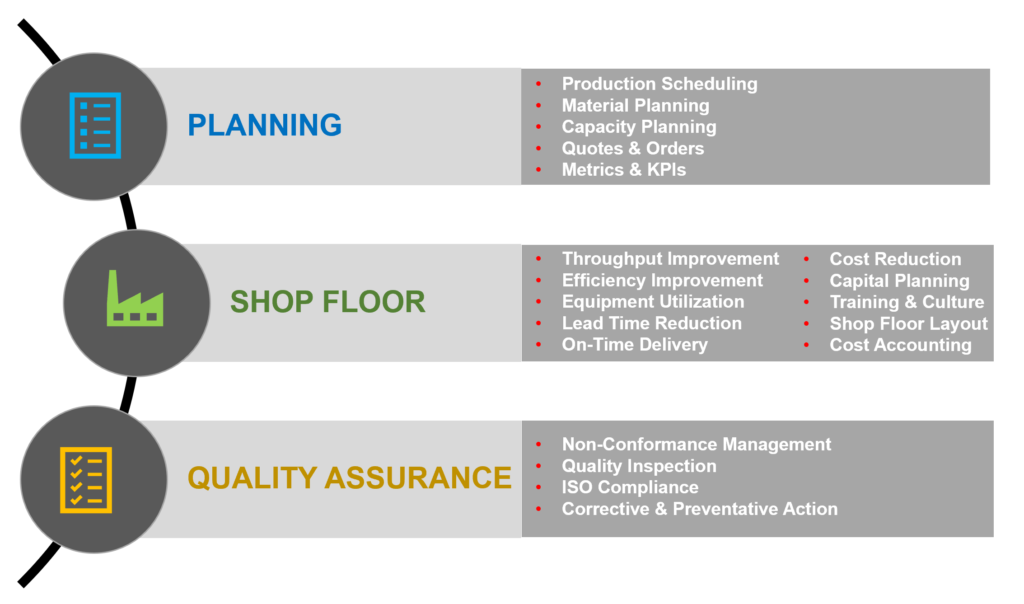 These are just a few examples of areas where we can provide valuable assistance:
Efficiency Enhancements.  We can help drive shop floor efficiency improvements to reduce cycle times, reduce labor cost, and increase productivity.
Production Planning, Scheduling, & Control.  Altemir Consulting's expertise is unsurpassed in establishing effective Lean shop floor control systems to dramatically improve on-time performance.  Lean MRP is our innovative production scheduling and control methodology that uses your existing ERP or APS scheduling system to establish pull-based Lean flow on the shop floor.  This is a highly desirable approach, particularly for high-mix job shops.
Material Availability.  We can establish Lean material management processes using kanbans or MRP to ensure that shop floor material shortages are eliminated.  Our ERP optimization expertise can also ensure that Procurement receives the correct purchase requirements exactly when they are needed.
Capacity Planning.  We can establish metrics and strategies to help identify and overcome manufacturing bottlenecks and establish effective load and capacity management to ensure that customer demand is reliably met.
Sales, Inventory, Operations Planning (SIOP).  Altemir Consulting can implement a SIOP program that uses effective sales forecasting to drive capital planning and staffing to keep the factory and supply chain ready for what's over the horizon.
Project Management.  We can provide project management support whether its part of continuous improvement, a strategic initiative, or capital investment project.
Manufacturing processes we have experience with include:
Machining and turning
Sheet metal (stamping, punching, and bending)
Assembly
NC programming
Welding
Injection molding
Thermoforming
Composites manufacturing (manual layup and tooling)
Non-destructive testing and inspection (NDT/NDI)
Wire harness manufacturing
Laser and water jet cutting
Learn about our Production Scheduling & Control consulting specialization
(click here for more information)
Explore the Possibilities...
We welcome inquiries from all businesses, small and large, that are eager to move to the next level.  Feel free to contact us to discuss your specific needs at no obligation.