Supply Chain Management Consulting
Supply chain management and MRP material management are some of our principal areas of specialization. Whether you are seeking to optimize raw material purchasing and inventory at a single site or need to balance complex supply chains that span multiple domestic and foreign suppliers and customers, Altemir Consulting can effectively address your challenges as an extended part of your team.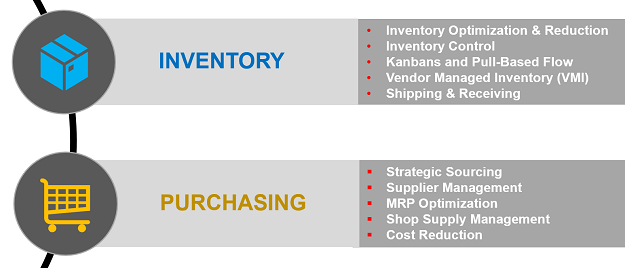 Just few areas where we provide supply chain management consulting services include:
Material Planning.  Our expertise is unsurpassed at establishing stable, accurate purchasing signals designed to minimize inventory and maximize material availability using either Lean kanbans, MRP, or a combination of the two.
Inventory Optimization.  Altemir Consulting can implement effective ordering mechanisms and inventory planning for a variety of build-to-stock, build-to-order, engineer-to-order, and VMI scenarios.  Reducing inventory while increasing customer fulfillment rates is often possible.  Learn more.
Contract Manufacturing.  We have experience and expertise in evaluating and establishing cost-conscious outsourcing functions.  Formalizing economic make/buy decisions, developing vendor qualification programs, ensuring supplier quality, and integrating outside service providers into your manufacturing process are among the supply chain management improvements that we can help bring about.
Vendor Management & Interventions.  Improved purchasing signals, vendor capacity management, and data interchange regimes can be put into place to make your external supply chain an integral part of your operation.
Supply Chain Balancing.  Raw material, WIP, and finished good inventory management and production control can be implemented in a multi-site environment to make your business act as a single integrated entity that minimizes cost and maximizes performance.
Explore the Possibilities...
We welcome inquiries from all businesses, small and large, that are eager to move to the next level.  Feel free to contact us to discuss your specific needs at no obligation.